Russkaya Troyka CJSC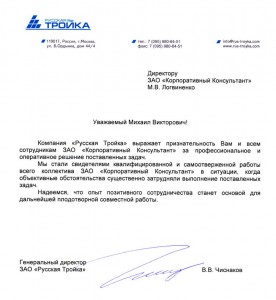 Russkaya Troyka expresses its gratitude to you and all employees of Corporate Lawyer for their professional and efficiently reaching the set goals.
We witnessed the qualified and selfless work of the entire Corporate Lawyer team in the situation when objective circumstances made it very difficult to reach the set goals.
We hope that this experience of our positive cooperation will become a basis for further fruitful joint work.
V. V. Chisnakov
General Director
Russkaya Troyka CJSC