Chaika Plaza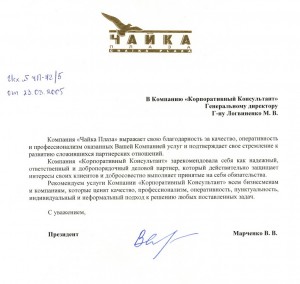 Chaika Plaza expresses its gratitude for the quality, efficiency and professionalism of the services rendered by your company and supports its efforts to develop established partner relations.
Corporate Lawyer has established a reputation of a reliable, responsible and good faith business partner that really protects the interests of its customers and properly fulfills its obligations.
We recommend the services provided by Corporate Lawyer to all businessmen and companies that value quality, professionalism efficiency, timeliness and individual and informal approach to reaching any set goals.